Los Angeles Car Accident Lawyer Greg Kirakosian
Los Angeles Car Accident Attorney, Greg Kirakosian, answers all your questions regarding car accidents in California. Statistics show car accidents are going up and so are injuries. Are you prepared to know if you deserve compensation a car crash?
Read the following below (click on any bullet point) to find out more about what to do when you find yourself in a car accident in Los Angeles or California (law is practiced by state although some city variances can apply). If you want the short version, here it is:
Car accident

lawyers work on a contingency basis which basically means that you don't pay if they don't win
If you're in a car accident document everything (pictures of the scene, driver information, get witnesses, etc.)
Seek medical attention if needed but follow up as well (some injuries appear much later)
If given an offer by a car insurer for your car accident, don't accept a subpar settlement without talking to a lawyer first
Some advantages that come with working with a car accident lawyer are that we do the work for you, you don't have to deal with the insurers, and we have experience in getting the best compensation possible for our clients
When picking a law firm, pick one that cares and not one that will simply try to turn it around as soon as possible
If you want to get into the nitty gritty of what a car accident can mean for you in L.A. or, rather, California, then please read on.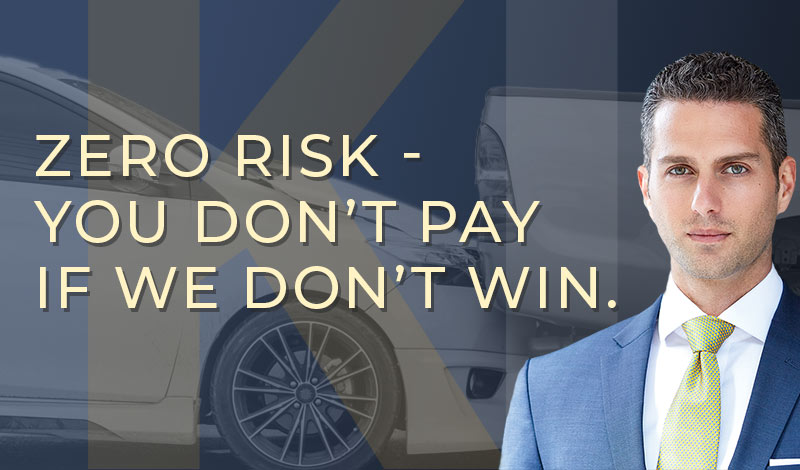 Table of Contents (click to jump to a specific section)
How much does a car accident lawyer cost?
Car accident lawyers work on a contigency basis which basically means that they won't charge you if they don't win. This is great for you as a client for many reasons:
There's no cost to get information regarding your car accident case from an attorney
There's no cost if you don't win your case as the attorney only gets paid if you do
A car accident attorney will simply not take your case if they feel you have no chance of winning
If your lawyer doesn't get paid unless you win, you better believe they'll do their best to get you what you deserve in a timely manner
All in all, your investment in pursuing your car accident case is at the bare minimum your time, briefly to get enough information as possible to see if compesation is due, and at most a percentage of your settlement (which will take into account your fees).
Can I talk to a lawyer about my car accident for free?
A phone call like this usually takes a few minutes. The attorney simply needs to know details about the car accident, your injuries, and a few other things. The call is free, the advice and clarity offered are priceless.
Do I still have to pay my lawyer if I lose my case? What does contigency basis mean?
Contigency basis is defined as two parties sharing risk together. Meaning that your lawyer only gets paid if you win. This is why a car accident lawyer will ensure that your case has merit for compensation before taking it on.
For a car accident case to have a chance of winning, there have to be damages. This means economic damages related to, most commonly, injury and property and non-economic damages. In terms of economic damages, think of not being able to play with your children or pursue your normal life because of an injury and so on. We have this awesome blog post and video talking about the differences between the two here: Economic vs. Non-Economic Damages
How do I know my lawyer will work my case correctly?
Again, if a lawyer works on a contigency basis, they not only assume risk with you but they also get paid more if you get paid more. This works out great as, no matter your situation, a contigency based attorney is going to work as hard as possible to not only win but to also get you the compensation you deserve.
Why do I need a car accident lawyer?
After a car accident, especially in Los Angeles, knowing how to move forward with your case can be overwhelming. Fortunately, our law firm has years of experience and a team of dedicated Los Angeles car accident attorneys who know what it takes to get our clients the money they deserve. If you have been injured in a car accident, contact our firm as soon as possible to get the support that you deserve.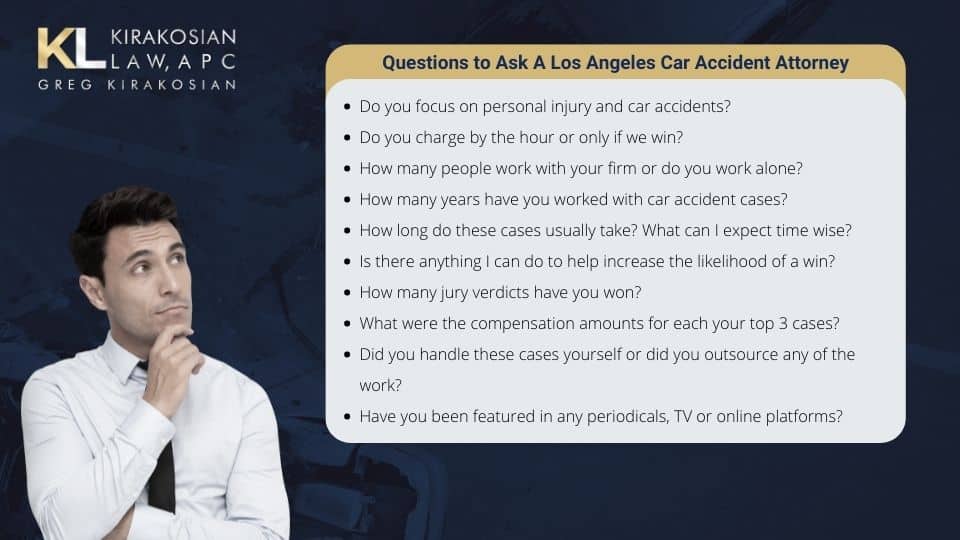 Contact Us For a Free Car Accident Case Evaluation Today
We offer a free initial consultation for people who have been injured in a car accident that someone else caused. During our initial consultation, we will be able to go over the important details of your case, including the nature of your car accident injuries, how the vehicle accident was caused, the steps you have already taken, and more.
Car accident cases are complex, especially for the victim of the car wreck who is expected to seek medical care, focus on recovering from their car accident injuries, work with the insurance company, and manage their work-related needs all at once. This is why it is so important to work with a personal injury attorney who can handle your Los Angeles car accident case while you prioritize your needs.
Calculating Damages For Los Angeles Car Accidents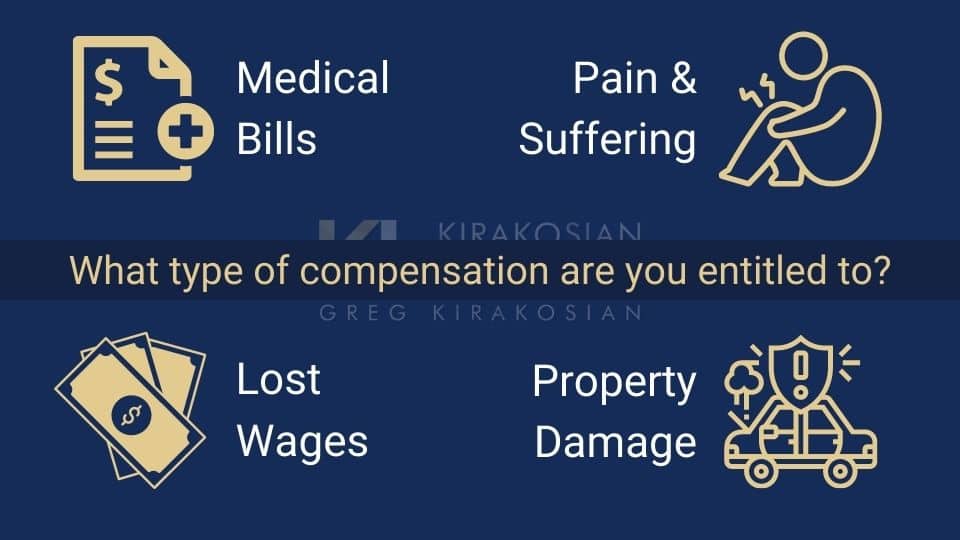 One of the most important services that a car accident lawyer provides involves calculating the damages that a client has suffered following a crash. Insurance companies try to focus on the most obvious things like property damage, medical bills, and short-term lost wages, but these are a gross simplification of the full range of damages you are rightfully owed. Personal injury law is very complicated for anyone who is not an experienced accident lawyer or personal injury professional, and the claims process is designed to take advantage of this fact.
Personal injury victims are entitled to compensatory damages after accidents, which are subdivided into two distinct types: economic and non-economic.
Economic Damages
Economic damages are all damages that have set dollar values. These include things like your medical bills, property damage costs, lost wages, and much more. Many victims overlook many of the minor economic damages, thinking that it might be too much work to include them, but an experienced and aggressive lawyer will pay close attention to all of these details to make sure that you are not taking on any of the costs of your crash.
From the day you begin working with your lawyer, they will start cataloging each cost, loss, or expense related to your accident, including any services you may need to pay for to perform chores you would have otherwise done yourself if not for your injuries. This can include things like driving, grocery shopping, cleaning, or cooking, to name a few.
Non-Economic Damages
Non-economic damages are the impacts of an accident that do not have costs or values. These include things like the pain and suffering of your injuries, the trauma that victims experience during accidents, and more. Insurers take advantage of the fact that victims do not have a clear understanding of how to calculate these types of damages and are quick to dismiss them if they are not working directly with a lawyer.
You are entitled to these damages under California tort law, and working with an accident lawyer is the best way to make sure you have a fair chance at getting the money you are rightfully entitled to.
Attorneys have a number of different calculation methods at their disposal depending on the type of accident and the nature of your non-economic damages, but rest assured that the team at Kirakosian Law APC will use the method that will help us work towards the most amount of money for these important impacts.
Why You Should Work with Kirakosian Law APC
The following are just a few of the many benefits of working with our Los Angeles law firm after being hurt in a vehicle accident. We understand what car accident victims are going through in the aftermath of such a traumatic and painful experience, and we are proud to provide valuable support in a number of ways.
Pay Nothing Out of Pocket
We do not require an upfront retainer for victims of car accidents who need experienced representation and instead work with a contingency fee. Many people worry that they are unable to afford a Los Angeles car accident lawyer, but this could not be further from the truth: we will take a predetermined percentage of the final award as payment, and if we don't win, you don't pay.
Results-Oriented Focus
We have recovered more than $35 million in settlements and trial awards. No two accident cases are alike, but we will be happy to go through examples of past car crashes we have represented to give you a better idea of how our Los Angeles car accident lawyers can help victims move forward from serious accidents.
Don't Accept a Subpar Settlement Offer
Fight back and make sure that your voice is heard by enlisting the help of an experienced Los Angeles car accident attorney at Kirakosian Law APC. Insurance companies leverage the fact that accident victims are likely overwhelmed by their injuries, their mounting medical bills, and their uncertainty about what the future holds.
This is a great way to convince someone to accept a low settlement, but we will be sure to help you understand your real options and work towards a fair payment.
Avoid Dealing With the Insurance Companies
You don't have to field countless telephone calls or sign any complex forms. The Los Angeles car accident attorneys at Kirakosian Law APC genuinely care about our clients and take it personally when we see insurers unfairly prey upon them. Contact our office today for a case evaluation and learn more about your options.
A significant benefit of hiring a personal injury law firm is that they become the legal representative of your case. This assertion means that you can direct any questions from your insurance company toward your attorney.
Focus On Your Needs First
The events following a car accident typically involve dealing with insurance companies. It's their primary goal to offer you an insurance settlement amount that mitigates their losses. How does this type of practice focus on your health and well-being? Simply put, it does not, and they know you are in a vulnerable position as you work through your injuries, your pain and suffering, and the anxiety that car accidents cause.
Work with a Legal Team that Cares
There are many moving parts when it comes to navigating towards a viable settlement that fairly compensates you and your loved ones fairly for your injuries and damages. Crash victims don't have to face insurers, their attorneys, or the person who caused the injuries alone after a car crash.
Don't leave things to chance. Instead, discuss your options with a licensed California personal injury lawyer to help you navigate the complexities of pursuing damages in your case.
You do not have to face the person who caused your injuries or their insurance companies alone in court. After all, it's their goal to prove that they weren't liable for your situation.
Contact Kirakosian Law APC Today
The sooner you contact our law firm, the sooner we can begin building a comprehensive personal injury case on your behalf. You do not deserve to take on the financial impacts of someone else's dangerous driving, and we will fight to ensure that this is not the case. Contact us as soon as possible to schedule your free case evaluation and initial consultation today. Greg Kirakosian and Kirakosian Law are here to help you.