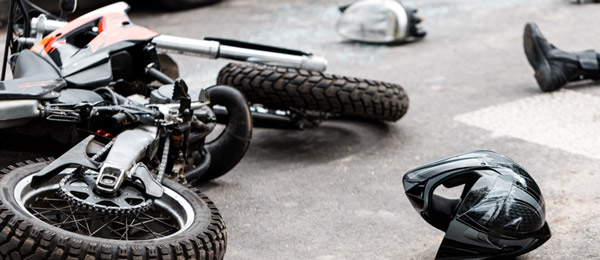 A motorcycle accident can be a traumatic event if you are a victim of one in Los Angeles. On average, the probability of getting into a motorcycle accident is 1 to 100, which is a prevailing situation for most riders and passenger vehicle motorists. A severe motorcycle crash can cost thousands of dollars in damage fees and medical treatment expenses not always covered by your insurance company. Taking action right away could be the difference in whether you win or lose a lawsuit claim. At Kirakosian Law APC, we have been in business for over 20 years and pride ourselves as a top-tier legal team with over $35 million in lawsuit settlements. We understand the law, and our experts have the tactics to navigate the legal system towards a just verdict with accurate compensation. If you are involved in a motorcycle accident in Los Angeles, reach out to our Kirakosian Law APC personal injury offices. Our firms are prevalent in populated areas throughout southern California like Los Angeles County, Glendale, Montebello, etc. Our personal injury attorneys care to see justice served for your pain and suffering.
What Is the Average Payout for a Los Angeles Motorcycle Accident
Whether you've suffered a traumatic brain injury, spinal cord injury, or minor damages, a motorcycle accident is a grim situation. As a victim, you deserve compensation due to your distress and the opposing party's negligence. Case settlements vary based on the severity of the motorcycle accidents at hand. They are contingent upon whether the damages accrued are potentially life-altering or pose a significant financial burden on you as a victim. Speaking to an accident lawyer is the best option to receive a case evaluation to determine the proper form of compensation for your motorcycle accident. At Kirakosian Law APC, we offer free case evaluations with no upfront retainer fees once we start the litigation process. Some of these potential damages may entitle you to compensation for your motorcycle injury:
Loss of wages
Medical expenses (current and future amounts)
Property damage
Property and part replacement
Loss of normal functioning
Emotional damage
Impaired quality of life
Out of pocket expenses
Contact a Kirakosian motor vehicle attorney in Los Angeles to identify your compensation eligibility.
Who Is at Fault for a Motorcycle Accident?
Reckless driving from a passenger vehicle is the most common cause of injury for motorcycle riders in Los Angeles. In most cases, the passenger car is at fault due to driving negligence and breaching the California "Duty of Care" driving law.  Distracted driving is the most common cause of motorcycle accidents in Los Angeles. If you are a motorcycle rider and find yourself in one, contacting your Los Angeles motorcycle attorney is the first step to receiving justice.
Situations accident victims find themselves in include:
Distracted drivers
Passenger car lane splitting or swerving
Reckless lane changing
Failure to slow down or stop
Los Angeles Motorcycle Accident Lawyer-When to call?
Motorcycle crashes vary person-to-person, and whether you wish to take legal action depends on the severity of the damages accrued. After a motorcycle accident, you should contact our Los Angeles motorcycle accident lawyers right away to identify and gather information on damages and bodily injuries. There are many moving parts regarding a reckless driving car accident case. Various components like medical bills and head evaluation if you went to the hospital come into play. These factors require an experienced professional to tackle the obstacles ahead. If you sustained injuries after a car accident, don't hesitate to contact an attorney at Kirakosian Law APC. We provide aggressive legal counsel throughout the claims and trial process best fit to benefit you.
California Motorcycle Riding Laws
There is a list of requirements expected from motorcycle drivers. If you are a victim of a motorcycle accident in Los Angeles, understanding and adhering to these laws beforehand may build a stronger case for you and demonstrate driving negligence from the opposing party. Below are a few of the motorcycle operant law and guidelines for safe driving:
California Vehicle Code (CVC) 27803 requires helmet compliance up to the safety standards of the U.S. Department of transportation and requires all riders to wear a helmet at all times.
Proper turning signal function
Motorcycles must have accurate side view mirror installations.
Of all the laws, the most crucial is wearing a helmet. If you were not wearing a helmet at the time of your motorcycle accident claim, you might lose the lawsuit advantage due to a lack of safety compliance. Contact your Los Angeles motorcycle accident attorney to go over if you met all safety conditions required at the time of the accident and deserve compensation for those injuries.
California Statute of Limitations
California law states every potential case comes with a statute of limitations which determines how long an individual can wait before the party at fault is no longer held liable to provide compensation. If you are involved in a motorcycle accident in Los Angeles, contact a Kirakosian accident attorney right away. Some injuries do not manifest themselves right away, and informing your attorney and insurance company of each immediate action will create a stronger sense of urgency as opposed to a lawsuit filed a few months to a year from the accident date. Failure to take action within two years of your accident usually dismisses any legal advantage the plaintiff may have had. Contact a Kirakosian Law APC motorcycle accident attorney after you've been in a motorcycle crash. Evidence is more substantial if it is immediate and the motorcycle injuries are fresh from the time of the accident.
Do not let catastrophic injuries affect your livelihood. After an accident, there are many opposing sides like insurance companies and the malicious plaintiff's team that aim to exploit you and invalidate your injuries. These groups are not looking out for your well-being, which is why it is imperative to have an aggressive attorney that will negotiate and fight for the justice and compensation you deserve. If you are a victim of a motorcycle accident in California, our Kirakosian Law APC experienced motorcycle accident attorneys will get you the best results for your motorcycle accident claims. We specialize in personal injury lawsuits, among others, including work injuries, brain injuries, and workers compensation claims delivering a straightforward litigation process with no upfront retainer fees. With over millions in lawsuit settlements, we will represent you to the highest extent leaving you to rest easy. At the same time, we tackle intimidating questions or rebuttals from insurance corporations with an exploitative plan. Contact one of our many Kirakosian Law APC office locations, including representatives in Lancaster, Fresno, Bakersfield, Glendale, and many more regions. Work with a team that cares. Call us today for a case evolution to learn more about your options.