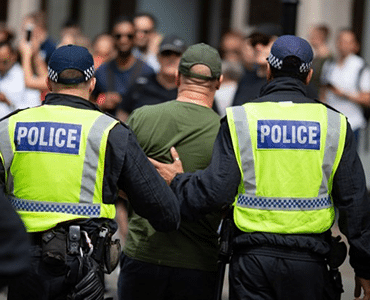 CIVIL RIGHTS LAWYER TAKING ON WRONGFUL ARRESTS
Getting arrested and charged with a crime you did not commit can turn your life upside down. If you are unable to pay the bond, you may have to spend weeks or months in jail. You could lose your job and your home. Even if the charges are eventually dropped, you may still lose your reputation in the community and become estranged from friends and loved ones. All because the police made a wrongful arrest.
YOUR LEGAL ALLIES AFTER WRONGFUL ARREST
We are Kirakosian Law APC. We serve people in the Los Angeles area who have experienced a wrongful arrest and need help picking up the pieces. Founding attorney Gregory Kirakosian provides his clients with dedicated, skilled civil rights representation. Contact our office to schedule a free consultation with Greg about your false arrest case.
ACT NOW TO PROTECT YOUR CIVIL RIGHTS
California law sets out a very specific procedure for making a wrongful arrest claim, which is commonly known as a "910 claim." As a victim of wrongful arrest, you have only six months from the date of the arrest to file a 910 claim with the county supervisor, city clerk or other appropriate government body. Meeting this deadline is one of the most important things you can do to fight for your rights as a Californian.
As your lawyer, Greg will carefully go over your experience with you and give you honest advice in plain language about the best way to proceed. He will investigate the evidence and identify the parties responsible for your rights being violated. In Greg's experience, civil court is virtually the only place ordinary people can assert their rights against law enforcement. He is a forceful litigator who prepares to take every case to a trial verdict.
SCHEDULE A FREE INITIAL CONSULTATION
The sooner you put Kirakosian Law APC, the sooner we can help you fight for financial compensation for your lost wages, emotional distress and other effects of your wrongful arrest. Call our Los Angeles office at 213-986-5389 to make a no-cost appointment with Gregory Kirakosian.