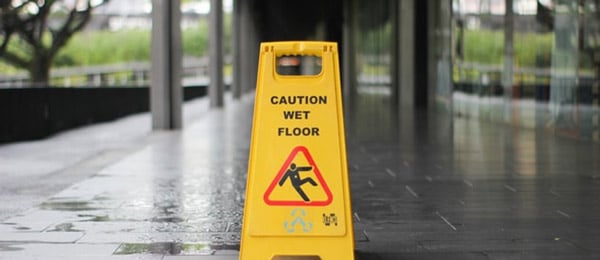 Slip and fall attorney los angeles
A slip and fall accident — also called a trip and fall accident — might not sound that bad, but it could cause serious injuries to the victim. If the slip and fall accident was caused by a dangerous condition on someone else's property, then the property owner is liable for the accident, and their insurance company should pay for the damages of the victim. The reason is that slip and fall and trip and fall accidents are a part of premises liability law, which in turn falls under the umbrella of personal injury law. That means the victims in slip, trip, and fall cases are entitled to receive compensation to take care of any expenses caused by the accident.
If they want the best chance of getting that compensation, then they should contact a slip and fall lawyer to help them. And if they suffered a Los Angeles slip and fall accident, then they should contact Kirakosian Law. Our personal injury law firm has highly experienced slip and fall attorneys who can help victims from all across Southern California with their cases. We will help them to file a claim against the insurance companies of the property owners, we will help them to calculate all of their damages, and we will negotiate with the insurance companies to make sure that they offer a fair settlement. If a lawsuit becomes necessary, then we will help with that as well.
So if you suffered a slip and fall accident in Los Angeles, give us a call to discuss your case with an experienced personal injury attorney who will fight to get you the compensation that you need and deserve.
The Elements of a Slip and Fall Case
A slip and fall accident can happen on either a residential property, such as a house or a commercial property, like a grocery store. Since slip and fall accidents and other premises liability cases fall under the umbrella of personal injury law, the following elements must be present for the case to be considered valid:
The property owner owed the victim a duty of care. This means that the owner of the property should behave in the way a reasonable person would under similar circumstances. For example, a store owner owes it to their customers to provide a safe environment that does not have any dangerous conditions or environmental hazards.
The property owner violated the duty of care, or in other words, they were negligent. In the example cited above, the violation would be if the store owner notices a spill that could cause someone to slip, but they do not clean it up or warn their customers about it.
The violation of the duty of care caused an accident. To continue with the store owner example, it would be if a customer slipped and fell on the spill because the owner failed to clean it up or warn their customers about it.
The accident caused losses for the victim. This simply means that the victim was injured in the accident, and that led to medical bills, property damage, or other expenses.
One other element that is a factor in slip and fall cases is whether the accident victim was a trespasser or not. In most states, trespassers are not protected by premises liability laws, which means that they cannot be compensated if they were on a person's property illegally when they were injured. However, under California law, a trespasser is entitled to compensation if they were injured on someone else's property. However, since trespassers are owed a far lower duty of care, they might find it more difficult to win their case and get the compensation that they need.
Causes of Slip and Fall Injuries
A slip and fall accident is caused by a dangerous condition on the premises, and the following are some of the conditions that can lead to an accident:
A spill that causes the floor to become slippery
A wet floor or a floor that has been recently mopped or waxed
Torn or upturned carpeting
Loose floorboards
Uneven surfaces
A cord or wire that runs across the floor that could cause a tripping hazard
Missing or broken railing on a staircase
Poor lighting in a densely packed area
Failure to salt or remove ice on a sidewalk
Potholes in parking lots or other outdoor areas on the property
Debris on the ground
Open desk or cabinet drawers
Tip: Get more information about employment law and what we can do
Injuries From Slip and Fall Accidents
Slip and fall accidents can cause serious injuries to the victim. In most cases, the accident victim can recover from their injuries, but some injuries could cause permanent, irrecoverable damage. The following are some of the more common types of injury that can be caused by slip and fall accidents:
Broken Bones – The wrists, arms, hips, and ankles are the bones that are most commonly injured in these kinds of accidents.
Traumatic Brain Injuries – These can includeconcussions, skull fractures, and bleeding in the brain.
Soft Tissue Injuries – These are internal injuries that might not be immediately visible. They can include things like torn ligaments,joint sprains, and internal bleeding.
Cuts and Bruises – These can happen if the victim comes into contact with something that could pierce or damage their skin.
Back and Spinal Cord Damage– This usually happens if the victim falls a great distance, but even a short fall could cause serious damage to the spinal cord, which could result in permanent or temporary paralysis.
What is the Average Payout for a Slip and Fall?
There is no average payout in a slip and fall case because they are all so different. However, the more seriously injured the victim is, the higher their payout will be. For most cases, the payout is between $10,000 and $50, 000, but for more serious cases the payout could reach $100,000 or more. The settlement amount in a slip and fall case is dependent on the following kinds of damages suffered by the victim:
Medical Expenses – These are likely to be the main expenses after an accident, and the higher they are, the higher the payout should be.
Lost Wages – If the victim is unable to work while they recover from the injuries sustained in the accident, then they are eligible to be compensated for the wages they would have earned had they not been injured.
Property Damage – If the victim's property was damaged as a direct result of the accident, then they should be compensated for the repair or replacement cost of the damaged items.
Out of Pocket Expenses – These are things that the victim has to pay for that may not be a part of the previous expenses. For example, if the accident victim is unable to drive, then they might have to use a taxi or rideshare service to get around. The cost of those services would be a part of their settlement.
Pain and Suffering – Victims of slip and fall accidents often experience this, and they deserve to be compensated for it. However, the way that it is calculated is different because it is not a measurable loss like the other expenses.
How Much is Pain and Suffering Worth in a Slip and Fall?
Since this does not have a direct monetary value, insurance companies usually calculate it by multiplying the economic losses by a certain amount. Different companies use different multipliers, ranging from 1.5 times the value of the measurable expenses all the way up to 5 times the economic expenses.
Contact Kirakosian Law If You Suffered a Slip and Fall Injury in Los Angeles
At Kirakosian Law, we know how serious a slip and fall injury can be, which is why we do our utmost to help all Los Angeles slip and fall victims. We are dedicated to holding property owners responsible so that their insurance company pays the accident victim their fair share. Kirakosian Law will help Los Angeles slip and fall victims with their accident claim every step of the way. Our slip and fall lawyers will help you to file your injury claim, calculate all of your expenses, and negotiate with the insurance company of the at-fault party to make sure that they give you a fair settlement.
So if you need a slip and fall attorney in Los Angeles, then contact Kirakosian Law to get a free consultation of your case. You can be assured that an experienced, knowledgeable, and dedicated slip and fall lawyer will take your case and fight to get you the compensation that you deserve.