On Friday, the California Highway Patrol announced that a woman had been detained the day after her vehicle rammed into several vehicles at a junction in Windsor Hills, causing a fire in a collision that killed six people. The suspect's name has not been released. Information about the charges is expected to be revealed later Friday. The driver who was detained was one of the passengers that received care at the hospital after the accident, but her injuries were not fatal.
There initially two people reported killed in the Windsor Hills car accident. The fiery, however, collision ultimately led to 6 deaths. It happened on Friday afternoon after a speeding vehicle ran a red light and plowed into automobiles in a crowded intersection were revealed to be a pregnant woman and her unborn child, according to authorities. The collision occurred shortly after 1:30 p.m., when a Mercedes-Benz coupe slammed into as many as six vehicles near a gas station, according to the California Highway Patrol. According to the Los Angeles County coroner's office, Asherey Ryan and her unborn son perished in the accident.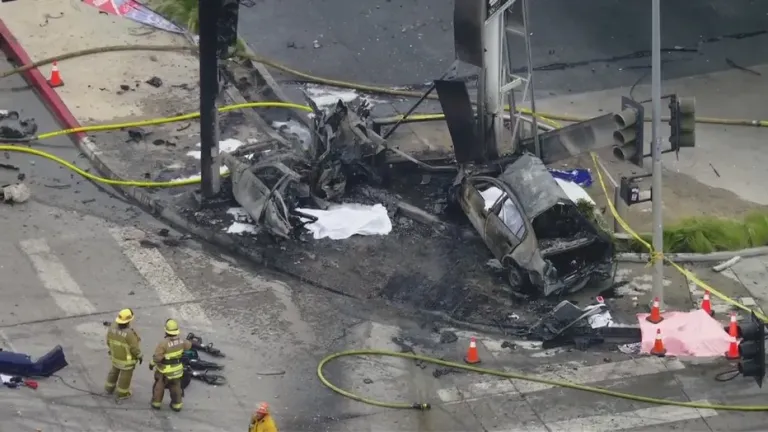 At least seven people were ejected from their vehicles and two cars caught fire. The damaged automobiles, as well as a child's car seat, were seen on news footage after the accident. Surveillance footage shows the car smashing into at least two vehicles, which burst into flames and were thrown onto a sidewalk after colliding with each other. A fiery streak ended at another vehicle and at the corner of the gas station as well. One automobile was halved in two pieces in the fiery and fatal Windsor Hill car accident.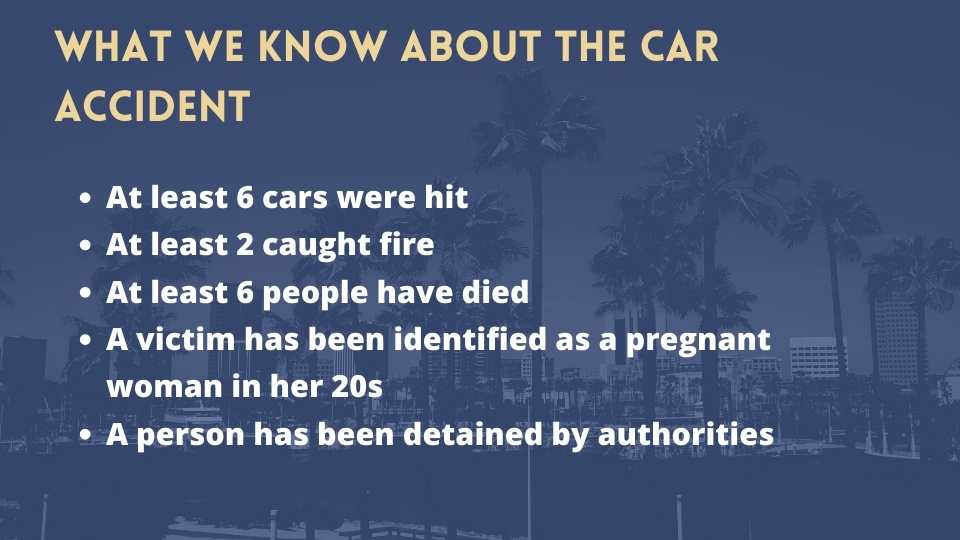 Windsor Hills Car Accident Statistics
Windsor Hills, California is no stranger to car accidents. There have been several car accidents in the area that have resulted in fatalities.
2020 along had various fatal car accidents such as the one in September of that year where a 26-year-old woman was killed after she was ejected from her car during a rollover accident on the 605 Freeway. The woman, who has not yet been identified, was driving a Toyota Corolla northbound on the 605 Freeway when she lost control of her car and rolled over multiple times. She was ejected from the car and pronounced dead at the scene.
In July of 2020, a 27-year-old man was killed in a hit-and-run accident while riding his motorcycle in Windsor Hills. The man, who has also not yet been identified, was riding his motorcycle on Crenshaw Boulevard when he was hit by a car that then fled the scene. The man was pronounced dead at the hospital.
These are just two examples of fatal car accidents that have taken place in Windsor Hills in 2020. 2021 and 2022 have seen even more accidents with various resulting in fatalities. With such a high number of car accidents in the area, it is important for residents to be aware of the dangers and take precautions when driving.
Windsor Hills car accidents in 2021 were more frequent than in neighboring areas. In February of that year, two people were killed in a multi-car crash. The accident happened on Crenshaw Boulevard and 79th Street.
In May of 2021, another car accident occurred in Windsor Hills that led to fatalities. This accident happened on the 105 Freeway and resulted in the death of a man and his daughter. The man has been identified as 59-year-old Willie Davis and his daughter as 19-year-old Erica Davis. They were both pronounced dead at the scene.
These are just some of the fatal car accidents that have occurred in Windsor Hills in recent years. With such a high number of accidents, it is important for residents to be aware of the dangers and take precautions when driving.
When to Contact a Car Accident Attorney
If you have been involved in a Windsor Hills car accident, it is important to contact an experienced car accident attorney as soon as possible. An attorney can help you navigate the complex legal process and ensure that you receive the compensation you deserve.
Contacting an attorney is especially important if you have been injured in a car accident or if your loved one has been killed in a car accident.