Can a dog bite that doesn't break flesh or cause bleeding lead to winning a personal injury lawsuit? Johnson v. McMahan, 1998 establishes that YES IT MAY! And no, we're not talking about a toothless dog nor was the plaintiff the man of steel. Let's dig into the dog bite that wasn't but, technically, was.
Get the attention you deserve
BRADLEY JOHNSON, Plaintiff and Appellant, v. ROBERT mcmahan et al.,
The Aftermath of the Dog Bite That Wasn't
BRADLEY JOHNSON, Plaintiff and Appellant, v. ROBERT McMAHAN et al.,
California is a strict liability state when it comes to dog bites. This basically means that the owner takes full liability for the actions of their pets. Typically, when you think of a dog bite you think of teeth crunching into flesh, cartilage and even bone. However, Johnson v. McMahan shows that a basis exists for a dog bite to qualify regardless of direct injury to one's body. How so?
The plaintiff, Bradley Johnson, was performing roof work on the residence belonging to the McMahan family. In comes lovely Timber, a 5 month old German Shepherd who sees Mr. Johnson standing on a ladder and lunges at him.
While the dog missed the actual leg of the plaintiff, he did latch his jaws onto his pants. As a result, Mr. Johnson fell from the ladder and suffered injuries and, per his claim, emotional distress. The plaintiff sued on various causes of actions while also presenting his torn pants as evidence. While most of these were denied, the court did grant summary adjudication (a pre-trial legal procedure that allows a court to examine the fairness or validity of a certain legal claim among other things) on the dog bite statute we mentioned previously.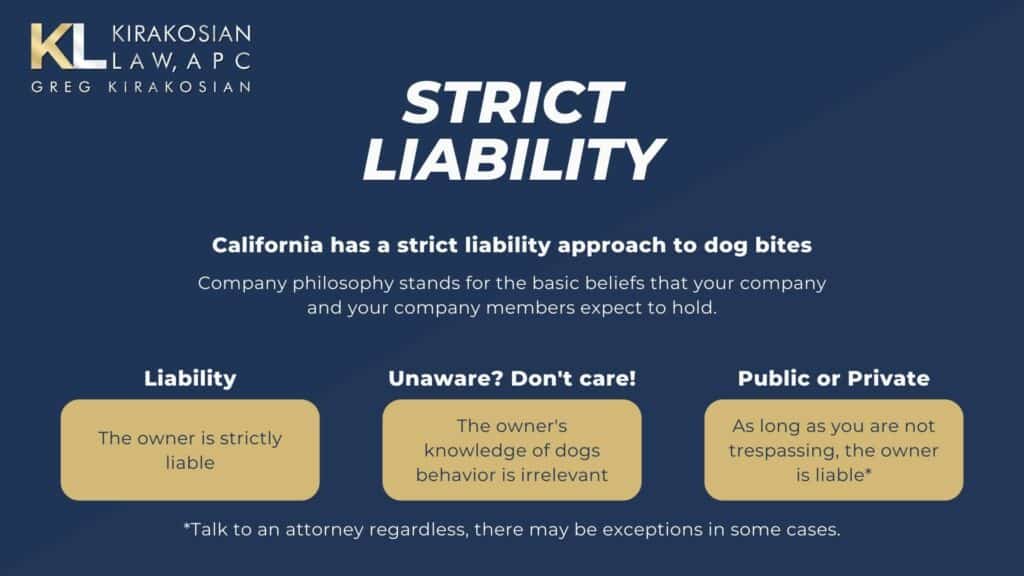 The Aftermath of the Dog Bite That Wasn't
While initially the court ruled in favor of the defense, the judgment was eventually reversed and remanded for further proceedings. On what basis? Firstly, a bite, by definition, does not imply breaking the skin of anything. A bite is the action of clamping down with your mouth with some degree of force. The dog did, in fact, bite the plaintiff.
Secondly, the court considered Delfino v. Sloan from back in 1993. In this particular case, the dog bite the plaintiff's bicycle tire causing him to fall and suffer injuries. The court maintained that liability was, after all, on the owner of the dog due to a leash ordinance being violated.
Everything comes down to Civil Code section 3342, otherwise known as the Dog Bite law. If your dog injures someone lawfully present on your property or out in public, you are strictly liable. If you are bitten by a dog while you are out for a morning walk and are injured as a result – you may have a claim.
If your best friend invites you for dinner and Tiny Mike, the spoiled Chihuahua, who wears a turtleneck better than anyone you know, bites your nose off – you may have a claim. The best thing to do is to always talk to an attorney.
At Kirakosian Law, we have successfully won for countless clients over the years in and out of court. We recently had a case that resulted in half a million dollars in compensation for our client.