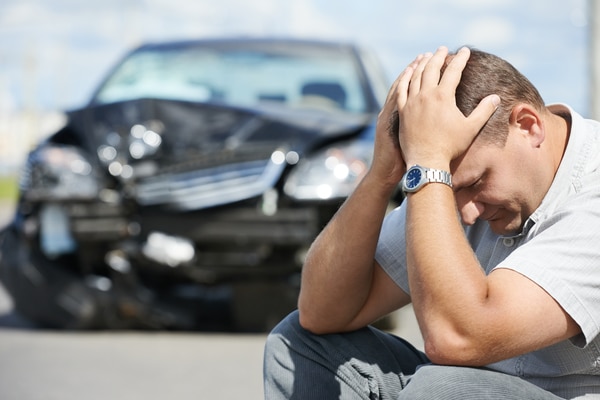 The National Highway Traffic Safety Administration (NHTSA) ran a study based on traffic fatalities estimating that exactly 36 120 people died in motor vehicle collisions in the year 2020. The likelihood of getting into a car accident is 1 to 366 within a 1,000-mile radius. The typical car driver averages at least 3 to 4 car accidents in their lifetime. These accidents can pose a hefty toll on your driving record, raising insurance rates and fines. The probability of getting into a car accident increases depending on where you live as well. Our law offices represent many residential areas in California. Hotbed regions for frequent reckless driving accidents include Los Angeles, Pasadena, Glendale, Montebello, and Coachella Valley. 
What to Do if I am at fault for a Collision Car Accident in California?
If you are at fault for a head-on collision car accident in California, connect with a Kirakosian Law APC attorney right away. As a defendant or plaintiff, our team will work to get you a just verdict that will benefit both you and the opposing party. Your Los Angeles car collision lawyers accrue substantial evidence for the case. Recollecting the specific events of the accident and what took place prior will help your Los Angeles car collision lawyers accrue significant proof for the client. One or more parties may be involved in regards to a head-on car collision. There are many objectives to consider, like negligence due to distracted driving or driving under the influence. If any of these situations pertain to you, connect with our law firm today for a free case evaluation.
What to Do if I've Been Injured in a Head-on Collision Car Accident in California
If you are a victim of a head-on collision car accident in Southern California, the attorneys at Kirakosian Law are here to help. The most vital components of an accident are the bodily injuries sustained as a result and if the victim had a complete body evaluation from a certified physician after. Building a solid case requires that all documented paperwork is recent and backed by a credible source. Evidence of medical treatment strengthens the lawsuit and correlates the injury directly to the person at fault, making compensation more likely. Specific injuries and treatments entitle you to collision compensation, for instance:
Police Report
Medical Bills
Medical Records
Doctor Notes
Doctor Diagnosis
Proof/Photos of Injury
Speak To a California Car Collision Lawyer Today
Connecting with a personal injury lawyer in Los Angeles, California, is the first step to recovery and alleviating financial burdens. At Kirakosian Law APC, we are a top-notch law firm with over 20 years of service and 35 million dollars in personal settlements. Dissecting a case is a demanding and overwhelming process. Recollecting the accident events, speak to your insurance company, and schedule medical appointments for any injuries received. Our experienced car accident attorneys specialize in reckless or distracted driving accident claims and can help you sort and recall the most crucial aspects of your case. We will negotiate with insurance companies on your behalf to get the highest rate of compensation deserved. 
If you suffered head trauma or impairment from a head-on collision accident in Los Angeles, California, our Kirakosian Law APC experienced personal injury attorneys will get you the best results for your car accident claims. We specialize in personal injury lawsuits, among others, including work injuries, brain injuries, and workers compensation claims. With over millions in lawsuit settlements, we will represent you to the highest extent leaving you to rest easy. At the same time, we tackle intimidating questions or rebuttals from insurance corporations with an exploitative plan. Contact one of our many Kirakosian Law APC office locations, including representatives in Lancaster, Fresno, Bakersfield, Glendale, and many more regions. Work with a team that cares. Call us today for a case evolution to learn more about your options.